About Medice Mfg

Medice Manufacturing has been making and selling Valve Cover Spacers since 2005.
It all started when I was working on a motor for a 4WD van. We wanted to install Roller Rockers to gain performance, but they would not clear the factory/stock valve covers "the valve covers simply would not fit. Tall aftermarket valve covers would not fit properly this engine due to component interference. I decided to fabricate a custom set of spacers. Little did I know at that time that a fix for our project would develop into a full-on business venture.

After several hours of designing and talking to machine shops, I had four sets made. I used one set on the 4WD van and took three sets to a local swap meet. There was a lot on interest from many enthusiasts. However, the requests were for quite a number of different engines.
I had several area machine shops make spacers for me, but I wanted better quality than I was receiving. I purchased my own CNC machine to have better quality control and more variety. Also purchased and basically taught myself how to write CNC programing. I am constantly improving the spacers. I now make them for over 25 engines and I am adding new ones all the time.
Personal Note:
I have been a motor-head all my life. At the age of 5, my Dad and Mom took me to my first stock-car race and I was hooked! Dad was a lifelong farmer, but built stock-cars for some local guys. He built some great running flatheads in the early sixties. He did not own a torque wrench so he used a breaker bar and a scale hooked to it.
Currently I own 5 classic Mustangs ( Bosses and Fastbacks). I have worked on a crazy variety of cars. I am a member of a Top Dragster crew. It has a 3000HP supercharged Hemi engine.
From a very early age attention to detail was instilled in me by my dad and brother, that became a part of my every day life. In the past I worked as an industrial chrome plater for 30 years, working daily with tolerances of 1/10 of one thousandth of an inch. (Talk about attention to detail!). I eventually became the shop foreman, then the shop manager.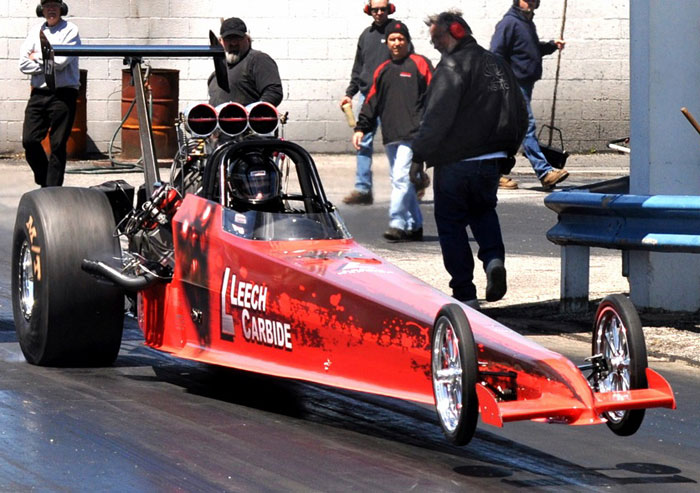 All this work experience and my upbringing results in Medice Manufacturing making what we believe are the absolute best quality Valve Cover Spacers, engine storage kits, tools, and accessories possible. Very simply: if we knew of a better way to manufacture our products, we would be doing it that way. From the materials we use, to extensive design, to thorough testing we simply make the highest quality products possible.
From one motor-head to another: You'll love our valve cover spacers, engine storage kits, tools, and accessories as much as we do using them ourselves! Dan Medice ~ Owner Medice Manufacturing.
---
A Tribute/Remembrance of my Brother, Artie
Artie was much more than my brother ~ he was my best friend. We both loved anything with an engine. Much more so, our mutual love for FORDs was our absolute passion. We learned so much from each other as we worked together on various projects.
Artie passed away in April of 2015. We held a memorial service at the Cochranton Community Church, where we invited everyone, we knew that had a car to come out and honor Artie. We also had the Leech Carbide TAD car there (Artie & I were on the pit crew for the car). Following the formal service in the church, we had everyone start their cars and rev their engines to honor Artie it was very cool. I miss Artie more than the words on a page could possibly represent. Life for me will go on; however, there will always be a hurt inside me for my beloved brother who I shall always miss very much.
Love you Artie!
Memorial Slide Show: PDF Acrobat | PPTM PowerPoint